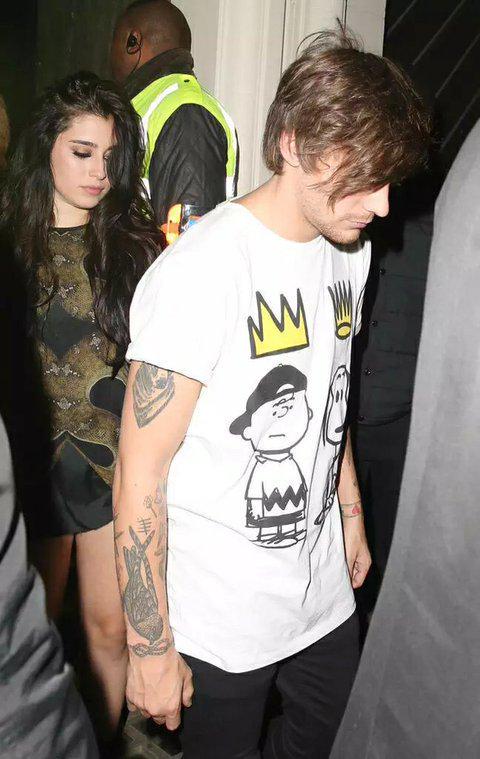 Just yesterday 'Niall and Jade' sent twitter into a meltdown and today 'Louis and Lauren' have taken over the social media with a storm.
I guess sending twitter into a meltdown runs in the band.
They both rose to fame after being put into groups on The X Factor by music mogul Simon Cowell.
So it's no surprise that One Direction singer Louis Tomlinson hit it off with Fifth Harmony's Lauren Jauregui during the final of Britain's Got Talent on Saturday night.
The stars were spotted leaving Libertine nightclub at 3.15am in the same taxi following the ITV show's afterparty – no doubt after a little nudge from their famous manager. There were no reports reported about the singers getting closer or any sort of PDA. So non louren? shippers can calm down.
There was even more fun being had backstage.  Niall Horan later took to Twitter to share a photo of him and Louis Tomlinson hanging out with fifth harmony behind the scenes at the finale, where the girl group performed on the aftershow. "Always good to see you boys!! @NiallOfficial @Louis_Tomlinson see you at capital ball," 5H tweeted. Of course, Cowell just so happens to have had a hand in both the careers of 1D and 5H.
MailOnline has contacted a spokesperson for Louis for comment. The rest of her Fifth Harmony bandmates went their separate ways after the bash, which was also attended by Louis' bandmate Niall Horan.
After these pictures made their way online, twitter broke down and Lauren and Louis made it to the worldwide trends. And the reactions were hilarious.
a standing ovation for the one direction fandom please. These peeps are so talented and definitely have the funny bone.
Check out Fifth Harmony's performance last night.
So what are your views? Do want this ship Louren to sail or sink?